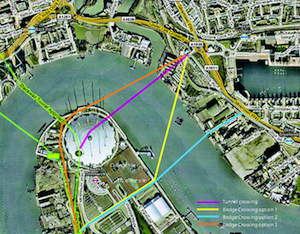 BORIS JOHNSON
CABLE CAR
SILVERTOWN
TFL
A "pressing need" but no funding for new river crossings
By Adam Bienkov

30 March 2011, 15:41
Boris Johnson believes that there is a "pressing need" for a new river crossing linking Silvertown in East London to the Greenwich Peninsula.
The so called "Silvertown crossing" would run in parallel to the Blackwall tunnel and the proposed Thames cable car.
In response to questions from the London Assembly last week Boris writes that:
There is a pressing need to provide an additional road crossing at Silvertown to provide greater resilience to the road network and support the longer term growth of the surrounding area."
Boris also raises the possibility of replacing the Woolwich Ferry with another ferry further east at the proposed location of the Thames Gateway Bridge.
The possibility of building a bridge at that location will be retained "provided the problems with previous proposals have been addressed."
Details of the new crossings were not included in the TfL business plan suggesting that their construction may not be as "pressing" as the Mayor has suggested.
Of the Silvertown Crossing Boris writes that:
Although there is some development funding, there is no funding in TfL's budget for building a new crossing at Silvertown and I have asked TfL to explore a number of options for how this could be funded.
These options could include private sponsorship or more likely the tolling of existing crossings in the East of London.
The required £40 million funding for the cable car has not yet been secured but the Mayor writes that there has been "considerable interest" from private companies.
He also raises the possibility of "a competition of some sort" amongst those interested.