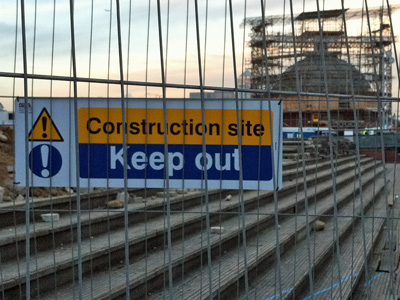 GREENWICH
GREENWICH COUNCIL
GREENWICH FOOT TUNNEL
ISLE OF DOGS
WOOLWICH
Assembly member attacks foot tunnel 'incompetence'
By Darryl Chamberlain

18 February 2011, 09:09
Greenwich Council has been accused of "incompetence" by a London Assembly member after formally closing the Greenwich Foot Tunnel without telling its users.
The claim comes at it emerges the Labour council's leader Chris Roberts refused to answer questions from deputy transport committee chair – and Liberal Democrat – Caroline Pidgeon about the foot tunnel, telling her to speak to a Labour assembly member instead.
The link between Greenwich and the Isle of Dogs, which is undergoing refurbishment work on its stairwells, was formally closed on 4 February after its increasingly-unreliable lifts finally packed up after months of almost-daily closures for breakdowns. It is not expected to reopen until 25 February, when the stairs are due to reopen and the lifts will be replaced.
Used by thousands of pedestrians each day, the tunnel is also one of only 24-hour cycle crossings east of Rotherhithe Tunnel. The other, at Woolwich, is also closed after its refurbishment – also overseen by Greenwich Council – hit other problems.
Stranded cyclists have to pay to use the Thames Clippers boat service or take a lengthy diversion via Tower Bridge or the Woolwich Ferry.
Greenwich is one of just two London councils to publish a weekly newspaper, which it distributes to all homes in the borough. But despite closing one of its best-known transport links, there was no space in Greenwich Time to pass on the news, and no information on the closure on the council website until yesterday.
When news of the refurbishment works emerged in summer 2009, rumours of a 10-month closure spread without being publicly checked by the council.
When Caroline Pidgeon wrote to Chris Roberts to find out what the situation was, the council leader responded by saying he was in regular contact with the Labour assembly member for Greenwich and Lewisham, Len Duvall, and she should speak to him on the matter.
"I am sure that once tenders for the works have been received and a detailed plan developed, Len will be able to update you at that time," he wrote in September 2009.
A more recent letter to Roberts, sent on 10 February, has so far gone unanswered.
Despite Roberts' reluctance to speak to a member of a rival political party on the matter, Greenwich's foot tunnel closures have also been criticised by Labour figures, including Greenwich & Woolwich MP Nick Raynsford and assembly members Val Shawcross and John Biggs.
Pidgeon told The Scoop this morning: "It was bad enough that Greenwich Council was so dismissive of pedestrians and cyclists before the work started on improvements to the Greenwich foot tunnel.
"Yet sadly their recent record in keeping people informed about the opening hours of the tunnel has reached new depths of incompetence.
"To suddenly close such an important route without proper publicity simply shows a total disregard for the many pedestrians and cyclists who rely on this vital link."
A Greenwich Council spokesperson responded this afternoon: "The work was planned in consultation with cyclists, traders and tunnel users and a schedule of work was put in place to enable pedestrians and cyclists to use the lifts while the stairs are being renewed, and vice versa. Alternative means of crossing the river were put in place for all but a few hours each week.
"Regrettably, the Council has now had to take the decision to close the Greenwich Foot Tunnel temporarily while refurbishment work on the stairs is completed.
"Greenwich Council apologises for the inconvenience caused to users. We wish to stress that this is very much a temporary situation with the newly refurbished stairs expected to reopen by the end of February."