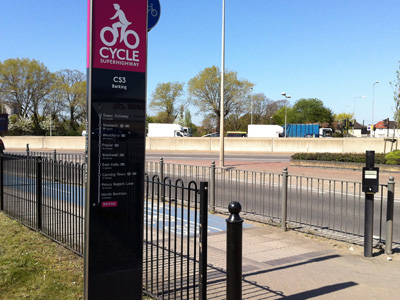 BARKING
BARKING AND DAGENHAM COUNCIL
HOST BOROUGHS
LONDON 2012
Barking climbs on board Olympic bandwagon
By Darryl Chamberlain

12 April 2011, 12:17
You might not have noticed, but London has gained a new Olympic borough this month – even though it is not hosting any events.
Barking and Dagenham becomes the sixth in the capital to gain the status ahead of London 2012.
Four of the other five – Newham, Tower Hamlets, Hackney and Waltham Forest – include part of or border the Olympic Park, while Greenwich plays host to three venues south of the river.
Barking and Dagenham, though, has no venues – and borders the North Circular Road rather than the Olympic Park.
So how did it get the honour? Quite simply, it was handed out after it failed to lure the shooting events away from Woolwich. Council bosses tried to persuade London 2012 to move the tournament away from the historic Royal Artillery Barracks to a brownfield site at Barking.
While that plan was rejected, B&D was given the bronze medal of Olympic borough status instead, with venues including Mayesbrook Park Arena being designated training centres.
It means B&D joins the committee of boroughs which decides on legacy issues around the games, and works to secure benefits from the Olympics for their residents, including access to jobs.
But how are the Olympic boroughs doing in promoting sport? A smattering of outdoor gyms aside, the record is patchy.
Greenwich residents have just discovered they will now have to pay up to £7.30 per hour to play tennis as part of a council cost-cutting scheme. In neighbouring boroughs, serving and volleying remains free.
In Newham, cyclists are baffled after the council blocked plans to run the next cycle superhighway through the borough and past the Olympic Park. Cycle Superhighway 2 will now only run from Aldgate to the Bow flyover, stopping just short of the Newham boundary.
Tower Hamlets Council was furious when the Olympic marathon was taken away from the streets of Bow and Whitechapel. But threats of legal action have now been dropped and mayor Lutfur Rahman is content to proclaim Brick Lane as London 2012's official curry capital.
The area, full of hipsters, stolen bikes and men trying to persuade you to eat spicy meals, "embodies the Olympic spirit", Rahman declared.
A lot, then, for Barking & Dagenham to aspire to. Maybe councillors could use their new status to demand the borough's cycle superhighway actually runs to Barking, instead of bafflingly stopping a mile short of the town centre.
There's still room on the bandwagon. Southwark has been eyeing up host borough status too.
All of which seems slightly unfair on neighbouring Lewisham, whose borders reach the edge of an actual venue in Greenwich Park – but it still gets the honour of being a gateway borough.
All of which goes to prove that if you're involved in London's local councils, the Olympics really do have something for everyone.