Sunday 5 September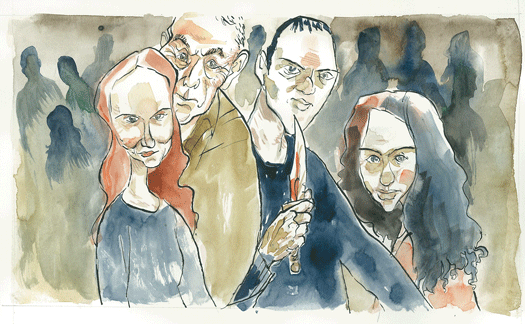 Mum is seeing a fellah. Daughter is steadily dropping out of life, disappearing before her mother's eyes. Brother is on a path to a bad end. And mum's fellah may or may not be a monster.
Visits, by Jon Fosse, is a dark, slooooow burner, with moments of revelation hidden behind other moments of misdirection. Characters take forever to say anything, building pressure like a percolator, but never letting the steam escape.
When I first entered the main stage space Theatre Delicatessen has created at the former Uzbekistan Airways building I immediately thought, This place needs a Scandinavian play! I hadn't then realised I was about to see one. The setting is perfect. Dark wood panels and shelving, peeling walls scraped away and replaced with corrugated translucent plastic sheeting, behind which we see backlit silhouettes acting as both memories and intimations of impending danger. Characters walk out of the space, out of sight, and their voices bouncing around the corridors, creating additional distance and disconnection.
Ben Hale as the brother is both boyish and threatening, coiled to strike but uncertain, afraid to act out. Ami Sayers is so fragile, at any moment she might shiver herself into jagged shards. Nikki Squire as Mum is desperately happy, but clearly has abandonment issues- over her absconded husband and perhaps from her own childhood. Her loyalties to her family seem rock solid until, when you least expect it, you realise she's about as dependable as gravel. Meanwhile the boyfriend, Cornelius Garret, is likeable, so you can hate him, yet shifty, so you wonder if maybe you had him pegged wrong after all.
Perhaps mercifully, with a plot trickling like a pre-global warming glacier, the play only runs an hour. Fosse's script keeps you guessing even after the play finishes, and you never know where your loyalties lie amongst the characters. Nothing in Visits is solid, nothing neatly tied together. It's a corrugated Norwegian fog.
Let's pretend Great Britain is a car. A Vauxhall Vectra. The NHS is the engine, the Arts are the body, Culture is the chassis, Education is the steering wheel, the BBC are the tyres and Welfare is the trailer hitched to the back full of screaming children, decrepit grandparents, deadbeat dads, pregnant mums, and John Littlejohn pointing at everybody demanding to know who stole his leather pants. Jeremy Clarkson is there too. He should be in the car, but he'd rather be back here barking on about how tight these damn pants are. The Financial Industry is the petrol that makes everything go. All are valuable, including the trailer, as otherwise Dick would have nobody to rant about except The Gays, and what a loss that would be to journalism. Homophobia will only go so far people! The BBC are the tyres because everybody loves to kick them from time to look like they are doing due diligence.
David Cameron is arguing it's the petrol that's important. He wants to chop parts of the vehicle to sell for fuel. Without gas the car is a rusting corpse. But if you neglect or discard other parts the whole vehicle will, soon enough, become inert anyway. Cut back a quarter of your fuel you can still get around until you can afford to buy more. Try driving around on three quarters of a tyre, or with one in four engine parts removed.
Yes, insurance, upkeep and fir tree air fresheners cost money. But it's the car that give the petrol meaning. Life without culture is just John, Jeremy and David ("And me too! Nick! I'm right here!") by the roadside, talking pants and huffing gas.
The 2010 Camden Fringe is over, hurry up 2011. Overall I was impressed. There were diamonds and turds, but the balance skewed towards precious stones over horse apples. Some were disappointing. Others were even better than I'd hoped, such as Occasionally Ovid. Some I expected nothing of turned out to be brilliant. My Ragga Journey was a delight. Bad Musical almost caused me to choke on my own laughter. Not to mention nearly drowning me. There was so much sweat and spit flying off the performers the front row was fitted with waterwings and snorkels.
Next year a banner strung across Camden High Street might help fill venues from day one. Also, an index of shows, with the page their blurb is on would be useful. And if anybody hears from the cast of City Cant, who left for the Amazon to rebreed endangered frogmonkeys, please call their mother. They forgot to take the luggage they nicked from Not Just a Suitcase with their scientific equipment inside- flippers, bananas and latex rubber gloves.
comments powered by